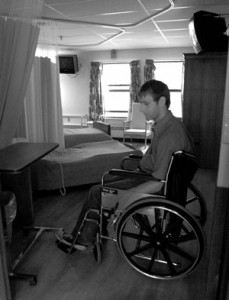 Evan Carroll, was featured today in the Portland Press Herald.
The reporter, Leslie Bridgers did a fantastic job putting this story together, and John Ewing got some great pictures! In the opening sentence, Leslie mentioned empathy, and that word really captures exactly what this project was about. Evan enjoyed the experience and the people he met while at the Veterans home.
We do need to explain one slight misquote though. Here is the quote:
"Better lighting, window trimmings and more color in the linoleum-tiled floors are some of the ideas Carroll has for making the nursing home feel cozier."
When Evan was talking to Leslie about this in the interview he cited these things as the obvious, and not necessarily that useful, responses that a facilities manager of a nursing home might have. Evan then told Leslie that he was still processing his thoughts on good architectural solutions!
We are looking forward to publishing some thoughts soon, so please stay tuned!