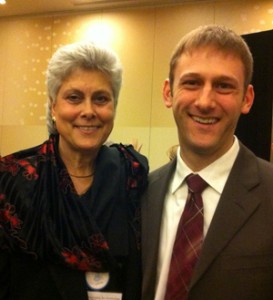 Bild Architecture is thrilled to have presented "Architect's Lessons Learned" with Dr. Marilyn Gugliucci at the 2012 Association for Gerontology in Higher Education's national conference. The conference was held in late February of 2012 in Arlington, Virginia. Bild's Evan Carroll presented his findings in response to participation in Dr. Gugliucci's Learning By Living program.
The AGHE organization is involved in some exciting new ideas in Gerontology. We received insightful feedback from dedicated members of the gerontology profession. It's always rewarding to find a group of people who are passionate and determined to create meaningful changes in our care model for older adults.
We were very pleased to learn that our colleague and mentor Dr. Gugliucci, has been awarded the 2012 Hiram Friedsam Mentorship Award. Congratulations Marilyn! You are a superb mentor and a wonderful friend!
We enjoy receiving your feedback. Please feel free to contact us by email: sasha@bildarchitecture.com