Written By: Audra Wrigley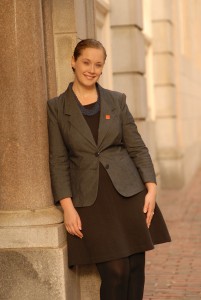 Responsibility has been a theme that has resonated with me throughout my career. Responsibility provides structure and organization in a world full of chaos. In terms of architecture, responsibility provides an ethical standard to which I feel that I must hold my designs. My moral responsibilities have manifested themselves many times in my career, but have never fully culminated in the way they have while working at Bild Architecture.
In simple terms, an architect is responsible for designing safe and healthy spaces for all occupants; however, occupant comfort often becomes an afterthought or gets value engineered out of a project all together. Although it is unrealistic to design a space that is comfortable for every single occupant who will use the space, I believe that it is still the responsibly of the designer to approach each design with a little extra empathy, compassion, and foresight for the end user. This belief began for me while I was developing my Master's thesis titled "Healing through Architecture: Rethinking Mental Healthcare Environments". My studies regarding the topic of occupant comfort and the impact that one's built environment has on mood and healing are well matched with Bild's work on life-long design projects catering to the elderly, as well as projects focusing on the mentally ill and disabled.
While architecture plays an integral role on an individual level, there is a growing global responsibility for architects. With the threat of climate change infringing on our planet, energy efficiency and resiliency are two factors that architects must understand and embrace. In order to better understand the delicate relationship between the architectural building envelope and the mechanical systems housed within, I decided to spend a year and a half working for an engineering firm before coming to Bild Architecture. This experience left me with a crucial, big-picture comprehension of the importance that architects will have in the future preservation of our resources and natural ecosystems reaching well beyond the confines of just the built environment.
Lastly, Architects are responsible on a community level. This realization came during college, where I focused my studies on urban planning, and was recently reinforced when I attended a local conference a couple of weeks ago, titled "The Challenge of Change: Are we Loving Portland to Death?".  Many topics such as land development, immigration, affordable housing, homeless populations, and political distrust were discussed, and while most of these issues cannot be fixed through design alone, architecture still has a significant impact when attempting to solve these issues. Architecture has the incredible ability to shape society through subtle nuances and subliminal messages, shaping how space, neighborhoods, or cities are utilized and perceived.
All of these responsibilities of varying scales: individual, global, and community, are the reason why I am working towards becoming a registered architect. I cannot think of a better place to apply my responsibilities than with Evan and Sasha at Bild Architecture. Together we will work towards providing thoughtful, ethical, and empathetic designs for future generations, the city of Portland, the state of Maine, and the world.