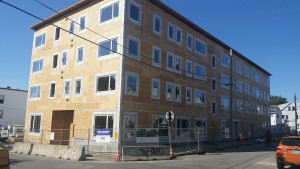 In the past week, I have been fortunate enough to tour two of the largest Passive House projects in North America. The first tour, organized by passivhausMAINE, was of Bayside Anchor located in our back yard of Portland, Maine. The building was designed by Kaplan Thompson Architects and is currently being constructed by Wright-Ryan Construction. The project is a collaboration between Avesta Housing and the Portland Housing Authority. The 45-unit building will contain affordable multi-family housing, Portland Housing Authority offices, a Head Start program, and a police substation. The goal of the project is to obtain Passive House Institute US (PHIUS+) certification.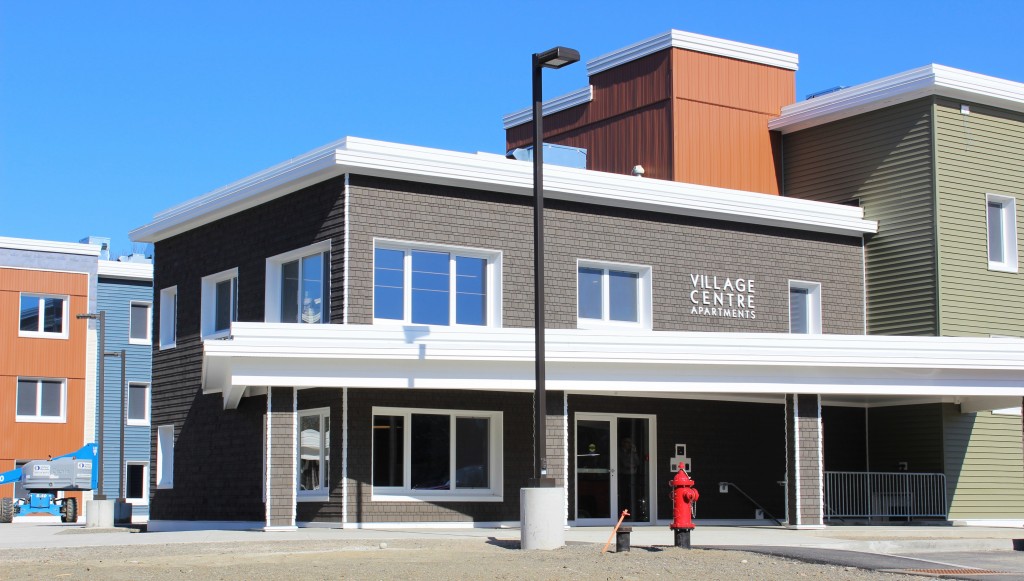 The second tour attended, which was organized by GrowSmart Maine, is the newly completed Village Centre project located in Brewer, Maine. This project was delivered through a public-private partnership between Community Housing of Maine (CHOM), the City of Brewer, and their business partners. This 48-unit multi-family housing project was also constructed by Wright-Ryan Construction. CWS Architects acted as the design lead for this project. This project was also built to Passive House Institute US (PHIUS+) Standards.
As someone who has undergone the PHIUS Certified Passive House Consultant training, as well as assisting with the mechanical design for the Bayside Anchor project, it was fascinating to learn more about the different dynamics and challenges of each project. For example, both projects were under extremely tight financial constraints which resulted in a reduction of floor to floor heights during the design process. I can recall firsthand the impact that this reduction had on the space for mechanical services such as ductwork on the Bayside Anchor project. As I walked through the Village Centre building, it was interesting to see that this project team had run into similar challenges and to compare the elegant approaches used to conceal these services.
I came away from these tours with a renewed excitement for Passive House construction, as well as with a lot of pride in our State for embracing the rigorous challenges of PHIUS+ certification. As more of these large scale projects get constructed in Maine, it is exciting to see the Passive House movement growing not only among designers and builders, but developers and municipalities as well.