Written by Eric Wittman
As an architect new to the Portland area, I was extremely excited to attend the Portland Society for Architecture's "Drink n Crit" held on September 7th.  This event featured the "Visioning Growth" charrette teams presenting their concepts for the city's future as it becomes a city of 75,000. Not only did this give me a quick education on the problems and issues facing my new home, but it was a great opportunity to mingle with other architects, engineers, planners and other people entertained by city planning; a group my fiancée reminds me is a small and unique collection of people.  Going early to Space Gallery, where the event was held, allowed me to check out the teams' work before the "crit" actually started.  Pinned up on the gallery walls were several maps of Portland overlaid with radiating circles, colored zones and highlighted nodes.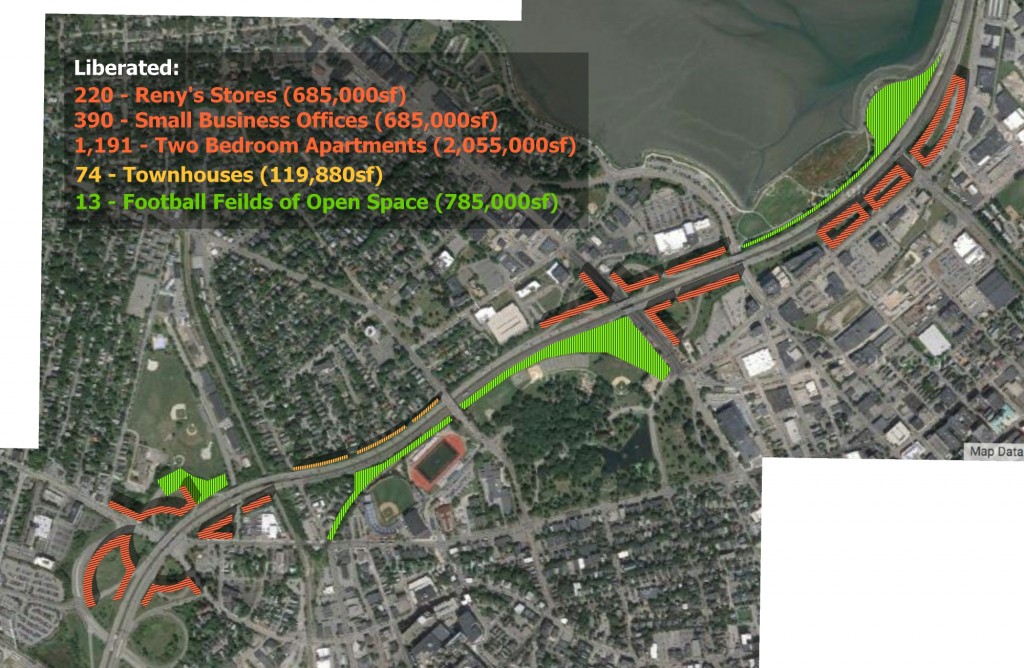 As I walked around the room studying the various maps, I was intrigued by the shape of Portland and its natural barriers.  Being born and raised in Wichita Kansas, a typical mid-western city, with its perfectly placed north and south grid, the map of Portland is still curious to me.  Wichita, with no natural barriers, can expand easily as its population grows, but I was interested to learn how Portland, wedged between neighboring cities and the coastline, with no room to sprawl, would handle growth.
As the teams presented their ideas it was easy to see, this was one of the main concerns they all were focused on. How can a city grow when there's no place to expand? Naturally the answer is for the city to get denser, but where?  What areas of town are more suited, or have the potential, to handle more density.  One team presented the idea of developing preexisting nodes which can already be found throughout the city, encouraging more density and larger buildings along the cities arterial roads where infrastructure already exist.  This solution would allow the entire city to grow and not just the downtown core. Another team suggested developing an entire section of town near the union station shopping center along St. John Street; infilling existing gaps in its urban fabric with new commercial and retail buildings, anchored by a large scale hospitality building. This development could also help the community engage more with the natural beauty of the Western Promenade.  One of the more extreme ideas was presented by a team suggesting 295 be converted into a boulevard as it cuts across the peninsula, undoing a mid-century mistake of dividing the city.  Wide areas through town, currently unusable because of the elevated highway, would now be open for development, creating a new iconic urban pathway for the city while at the same time stitching back together old neighborhoods torn apart long ago.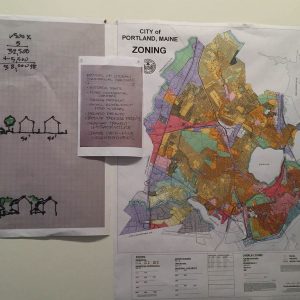 Besides determining where future growth in Portland could happen, the teams also mentioned other issues the city has; the separation of the peninsula from the rest of the city, the traffic, keeping the identity of neighborhoods, connecting USM more into the city and designing a city for both tourists and locals.  Hearing all these concerns, helped me understand my new city more and made me feel more like a true citizen of Portland. The evening partially felt like a crash course on the city's history, learning why certain areas had developed and looked the way they did. However most of the night was devoted to seeing a glimpse of Portland's possible future.   As cities everywhere continue to see more interest in different generations of people tiring of the suburbs and moving to urban areas, problems for our communities will only continue to develop and change.  The "Drink n Crit" event made me thankful there are talented, energetic, passionate and creative minds in this city that will help guide our community into a promising future.
All the teams had wonderful ideas and I can't wait to see them developed further.  All of this work leads up to a follow-up to 2015's Challenge of Change titled: "The New Allure of the City (and Some Unanticipated Consequences.)" This lecture is a partnership between: Portland Society for Architecture, Creative Portland, University of New England, University of Southern Maine, and The Chamber of Commerce.  It will feature a lecture by Alex Krieger FAIA a founding Principal of Chan Krieger NBBJ and take place on October 25th at Portland High School.
More information on the lecture here: http://www.une.edu/calendar/2016/new-allure-city-and-some-unanticipated-consequences