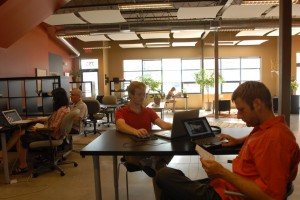 The month of August has been an exciting time for Bild Architecture! It has brought in new jobs, (including a renovation for a family camp on Sebago Lake), the start of our email campaign, and our new workspace: Peloton Labs.
Working at Peloton Labs has been a wonderfully stimulating experience for us. If you didn't already know, Peloton Labs is a co-working space. This means the Bild is renting two desks in a open office space where we regularly share ideas with professionals from many different disciplines. Peloton has marketing professionals, transportation advocates, website designers, professional organizations, developers, a resident artist, and now. . . architects.
The word "Peloton" is French and refers to the "pack" formed by racing cyclists. This pack has greatly reduced wind drag in the middle, and thus if the cyclists all take turns at the front of the pack, the whole group is able to ride faster for longer. I think you probably now understand that Peloton Labs hopes to be MORE than the sum of it's parts!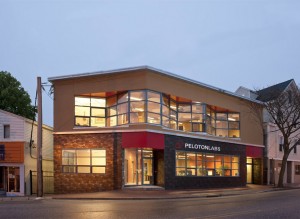 This idea that a group of creative, motivated people can do things that they wouldn't have dreamed of doing separately is central to our own beliefs at Bild. We are certainly proud of our own design and collaboration skills, but we are even more excited to team our skills with other professionals. It seems obvious to us that Portland, as a whole, embodies this philosophy, and that is why we live and practice here.
Peloton has a conference room available for use by all of it's members as well as a kitchenette, a printer, WIFI and "phone rooms." Some professions I would like to see at Peloton in the future are Realtors, Engineers and Photographers.