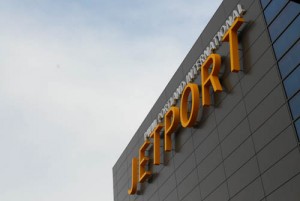 Bild Architecture, along with fellow members of the Portland Society of Architects, was treated to a sneak-peek at Portland Jetport's (PWM) new terminal expansion. This tour was arranged by the PSA, and was another great benefit to being a member of the organization.
Our introduction to the new terminal began with a presentation regarding funding, and the revenue-building aspects of PWM. The presentation furthered my understanding of how airports remain profitable. I learned that automobile rentals bring over $20 million to Portland each year. Auto rentals combined with parking revenue make up 52% of the Portland Jetport's annual revenue. Kind of like a $5.00 fountain soda at the movie theater!
The architecture tour began at the street entrance to the jetport. As you enter the new entrance, one of the ticket counters sits below a large textured wall. This wall is given further accentuation through the use of multicolored LED lighting. Our tour continued, behind the scenes, through the baggage handling area. The equipment filled a large room with different levels of heavy belts, machinery and intricate shipping lanes. I thank PWM for this rare opportunity to see baggage handling equipment.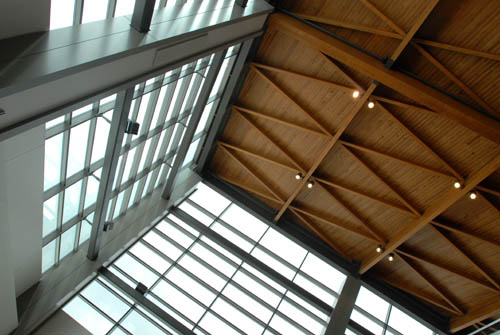 After going behind the scenes, we headed to the third floor where the new security screening equipment is located. The wooden ceiling enclosing the new terminal has a eye catching visual impact as you enter the space. The geometric angles and natural wood finish provide a memorable space for visitors. I was pleased to see such an attractive use of wood and windows in Maine's new terminal. Large metal support arms, designed to evoke trees, carry the ceiling with thick steel-tipped fingers.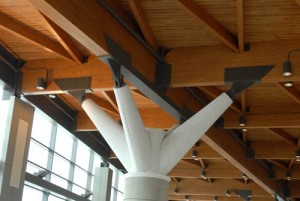 Ample space is provided for post-screening staging. Passengers will then progress to the second floor to meet their passenger gate. Comfortable seating, concessions, and abundant electrical and USB outlets greet passengers at the gate, and it's time to relax!
Thanks to PWM and PSA for making this tour happen.