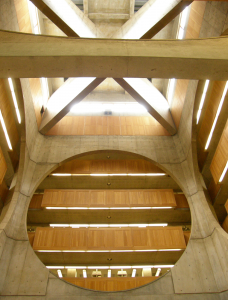 Last Friday, Bild Architecture, along with many friends and colleagues, travelled by bus to the Boston area for a tour of noteworthy architecture. Our adventure began at Philips Exeter Academy in Exeter, New Hampshire. We were met by the original project manager, Winton Scott, who gave us a spectacular tour and some valuable insight into the professional life and creative process of Louis Kahn. The Philips Exeter library is one of Louis Kahn's most well-known works of art/architecture.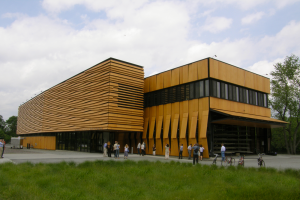 The Harry Parker Boathouse in Brighton, Massachusetts was our next stop on the tour. The Boathouse, a community rowing center, has easy-to-operate doors and windows that allow plenty of air circulation throughout the building and around the sculls. My favorite feature of the building is the wall panel that opens by mechanical means. Four chain operated pulleys open the entire wall section to airflow.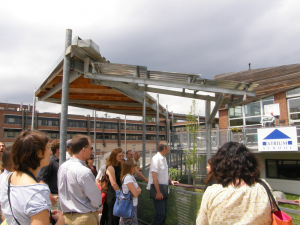 The Atrium school, in Watertown, Massachusetts, provided a fun third stop on our tour. This re-purposed warehouse building boasts plenty of daylight and a fabulous children's library. Creative solutions to this adaptive reuse kept the cost of renovation down, while providing a wonderfully cheery space for the pre-K through 6th grade Atrium school community.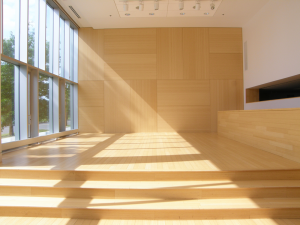 Next, we went back to college for a tour of a Harvard dormitory. Beautiful landscape architecture, brightly colored hallways, and a light filled event space form a building worthy of the Harvard campus. My favorite space in this building was the semi-private 7th floor student lounge equipped with comfortable furniture, a double height space, full glazing wall, and an outdoor patio with views of the Charles River.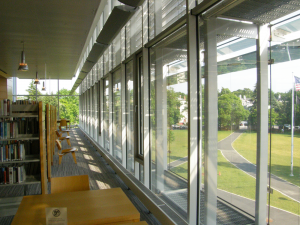 By late afternoon we arrived at the Cambridge Public Library's main branch. We found the library filled with people enjoying the Friday afternoon June sunshine that poured in through a double envelope window facade. The historic portion of the building has been carefully restored to original colors, period furniture and fixtures. The 3rd floor children's section offers comfy seating, scaled down desks and chairs, and a wonderful custom carpet designed to resemble stepping stones.
Thank you Portland Society of Architects for another fantastic architecture tour! For more information on events and membership with the Portland Society of Architects, please visit their website portlandarchitects.org.