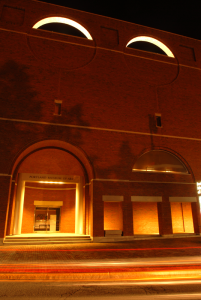 Last week, we at Bild were able to attend the Bi-Annual Un-Built Design Awards, put on by the Portland Society of Architects and held at the Portland Museum of Art. The event's goal is to allow Portland architects to share projects and designs that, for one reason or another, have not come to fruition. The projects were divided into three categories: student/intern, residential, and commercial; with fantastic entries in all three categories.
For me however, the highlight of the evening was a talk done by Henry Cobb, the architect of the Portland Museum of Art, about the design of the project.
I have special attachment to this building on account of my two summers working in the PMA maintenance department. In my opinion, the PMA building is the most beautiful contemporary building in town. It was designed with both rigor and sensitivity. It is durable, but not utilitarian, simply organized but meandering in experience, and wildly different from historic buildings but successful in being part of Portland's urban environment. My experience working at the PMA pushing brooms showed that the building is not just satisfying to experience as a patron, but also as an employee.
Hearing Mr. Cobb speak about the PMA design was further affirmation for me that I love the PMA building. He opened his talk with discussion of the greater context of Portland and how he knew our city before he ever came to design the PMA: His view of Portland is loving and respectful. Cobb talked about his responses to the Portland site: creating a facade for Congress Square, respecting the existing historic buildings owned by the PMA, and creating multiple courtyards in the PMA campus.
One forgets, or may not even notice when wandering through the museum, that the museum is organized in a simple grid that is based on optimal gallery dimensions. This simple grid creates a wonderful variety of spaces each with their own character and interest. Cobb explained the simplicity of the grid and then turned his attention to the "domes."
Topping each cell of the grid in the museum is an octagonal dome with a sort of cupola at the top for letting in indirect light. The solution, though simple in concept, must have been difficult to execute. The result is a beautiful wash of natural light in many of the galleries.
Cobb's words were eloquent and modest, and his slides were simple and illustrative. It was a true pleasure to hear Mr. Cobb speak about one of my favorite Portland Buildings, and so I say "Thank you!" to Mr. Henry Cobb, the Portland Museum of Art, and the Portland Society of Architects. Great event!