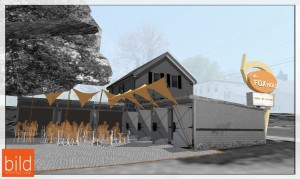 Pop-up restaurants are trending all over the world right now. A pop-up restaurant is a temporary eatery created for just a single meal or for a longer limited event. Pop-ups provide designers the chance to focus on concepts that emphasize atmosphere over durability, almost like stage set design. The goal is to create an experience that, by being temporary is edgy, experimental or provocative. Pop-ups provide architects the less common opportunity to design for the impermanent.
Past projects have "popped up" in old factories, recycled shipping containers, and underutilized open spaces. A pop-up can showcase the potential of neighborhoods, a chef or restaurateur. These restaurants provide a low cost/low risk opportunity for both patrons and business people to test the market in new locations.  Pop-ups can also allow seasoned restaurateurs the chance to create a unique experience.  This coming together of an exclusive group of patrons is the recipe for an evening to remember!
Portland's East Bayside neighborhood, also edgy, will be stage to its own pop-up later this week. Jed and Isa Rathband are set to host Fox Street's first pop-up restaurant event. Evan Carroll here at Bild Architecture was delighted to sit down with Jed to provide visioning graphics for The Foxhole. Jed's interest in future development possibilities for this site, as well as bringing awareness to the benefits of infill within the city of Portland, are major drivers of this "market test."
So friends, come on down to the Foxhole at 41 Fox Street this Thursday June 27th, 2013 at 6:00pm and get it while its hot! "New England Summer Dinner" is a collaboration between Damian Sansonetti of the Blue Rooster Food Company and Andrew Volk of the Portland Hunt and Alpine Club. To purchase tickets to this fabulous melding of pop-up provisions and creative community click here. And here's a description of the event straight from the collaborators:
Blue Rooster + Hunt & Alpine // New England Summer Dinner
"Damian Sansonetti of Blue Rooster Food Co. and Andrew Volk of The Portland Hunt and Alpine Club are hosting a backyard New England summer dinner Thursday, June 27th at 6PM.
The multi-course meal will feature foods from the land and sea that are integral to summer meals in Maine. The menu includes lobster, oysters, handmade pork sausage, as well as local produce and sweets. The cocktail menu will compliment the food, and will highlight American Harvest, a US-made organic spirit. Beer will be available from Bunker Brewing.
Dinner is $75 per person and includes your first cocktail. Additional drinks are available for $5 each after. This event is 21 and over. Seating is limited.
The bar opens at 6pm. Dinner starts at 6:30.
The event will be held at 41 Fox Street. Street parking is available.
This is an outdoor event, rain or shine, please dress appropriately."