Welcome to Bild's first "frequently asked questions" blog!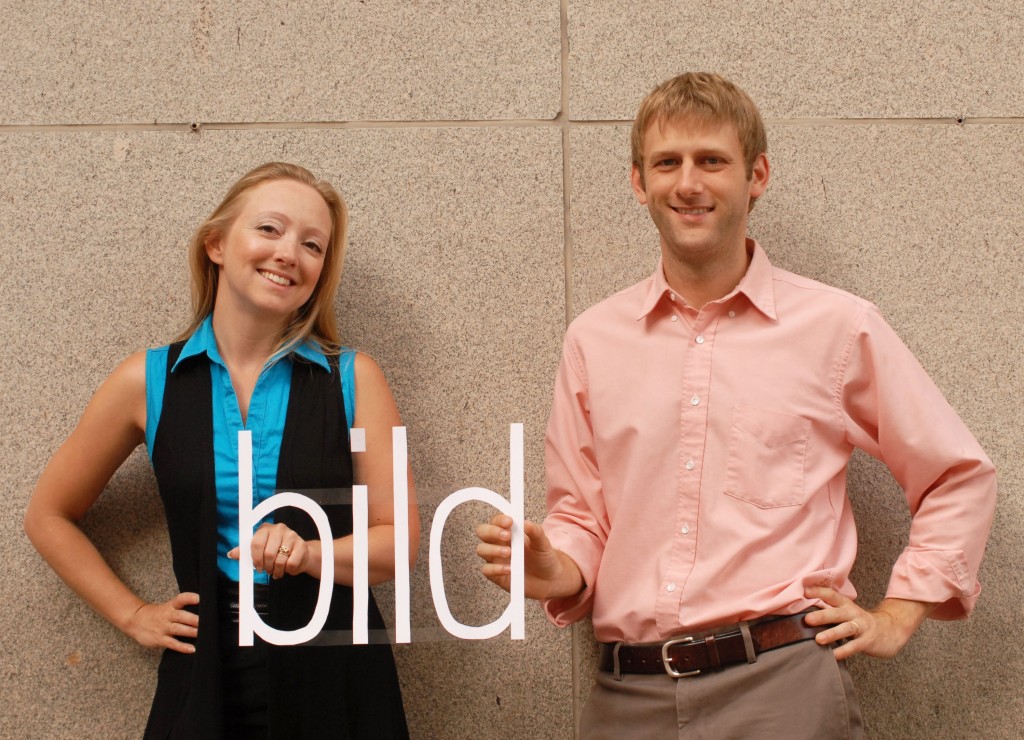 What is Bild Architecture?
Bild Architecture LLC is a 2011 formed architecture firm whose partners, Evan Carroll and Sasha Salzberg, have over five years of design experience and over a decade of management experience. Bild's current specialties include design of residential and small commercial projects, and consulting for permitting and project feasibility. (Want to know more about our experience? See our portfolio.)
Why "bild"?
The name "bild" is a misspelling of "build" chosen for it's symmetrical composition in lowercase. We like the concept of "build" because it is a word of action that implies progress. It also turns out that "bild" means "picture" in German, and that there is a German tabloid called "Bild." While this could have dissuaded us from using the word, we decided that few people would ever get us confused with a German tabloid.
How is Bild different from other architecture firms?
At Bild, we are proud of our communication skills. We have developed methods for graphically communicating design that we believe truly empower our clients to have influence and input in the design process. We have facilitation and consensus building experience that can be invaluable in bringing groups of interested parties to a unified conclusion about design, zoning, cost management or other issues. We are skilled at brainstorming and communicating project visions that become the driving forces behind successful completion of design projects. (Want to read more about our firm? See who we are.)
What is Bild passionate about?
One of the deepest values shared at Bild is our connection to our families and to loved ones, and we hope that through our architecture we can help others reinforce their own personal relationships. We hope, as the opportunities arise, to be able to serve baby boomers and empty-nesters as they re-evaluate their lives and consider downsizing their home or aging-in-place.
There is a love and poetry to finding design solutions to these issues because, while they have physical responses in buildings, the solutions also require a careful understanding of who a person expects to grow old with. The lesson learned from existing nursing homes is that living in them can feel like growing old alone, and that it takes more deliberate planning to ensure that people don't grow old alone. The challenge of creating a physical environment that keeps people from being isolated while also thinking carefully about planning for support from loved ones goes right to the heart of our personal values at Bild Architecture. (Want to share your passion with us? See our sketch project.)
What's so great about Evan?
Evan has over five years of architectural experience with design, project management, detailing, and construction management. He has broadened his experience skill list through numerous volunteer positions that have allowed him to develop skills as a facilitator, moderator and consensus builder. These positions have also given him first-hand experience in how policy changes can be made and how public process can be navigated to benefit the project owner, the governing body, and the greater community. (Want to read more about Evan? See Evan's bio.)
Why is Sasha even greater than Evan?
Sasha has over ten years of experience with business, including personnel management, small business management, budget creation, marketing plan creation, and marketing design. Sasha has a knack for recognizing and encouraging the strengths of those around her, and is practiced at creating a brainstorming climate for idea generation and finding creative solutions to problems. Sasha also volunteers on numerous local boards and committees where she hones her skills in planning, outreach, and interpersonal relations.  (Want to read more about Sasha? See Sasha's bio.)
Bild seems new to the architecture scene. . . should anyone be worried about this?
We feel excited to be part of what is definitely a groundswell of young professionals who are literally networked together by the digital culture we grew up in. Our peers are, like us, connected, involved and full of new ideas and fresh thinking. Bild may be a new architectural firm, but our previous experience, communication skills, and critical thinking skills will bring Bild and our clients successfully through any project we undertake. (See some of our friends.)