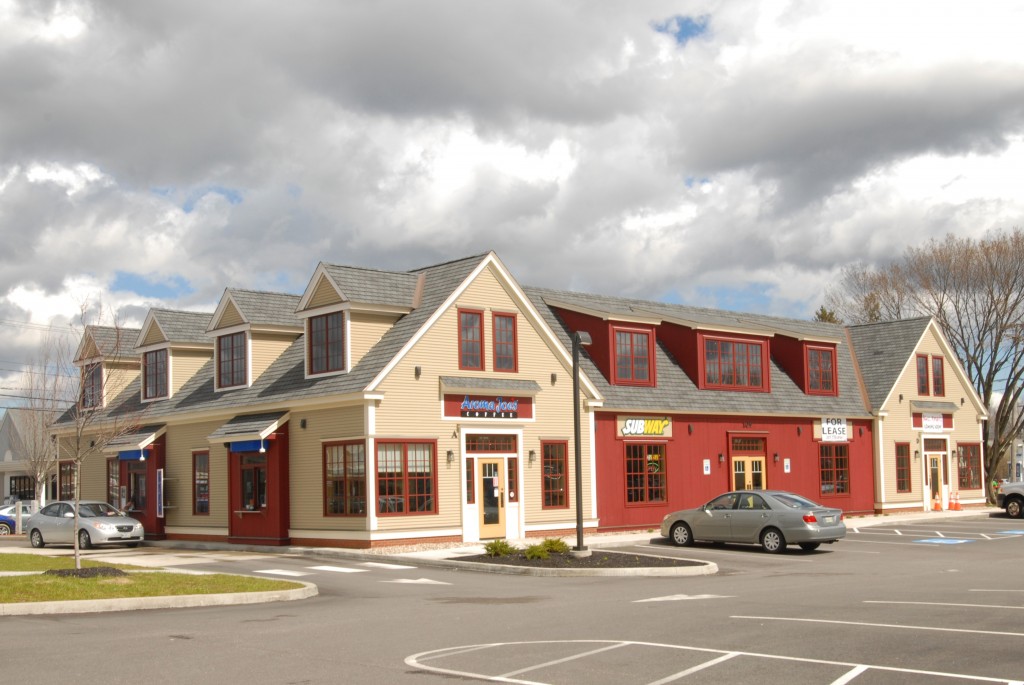 Bild was tasked with designing a new commercial building for Great Falls Construction in a highly visible corridor on Gorham's Main Street. The project consists of retail tenants on the first floor, drive thru access, and the possibility of future office or residential space on the second floor. The design is purely classic "Maine cape-colonial" complete with dormers, shingle siding, and a welcoming color palate.
Bild Architecture entered into a design build relationship to complete 109 Main Street. Working closely with the contractor and developer produced an attractive, cost and energy efficient building, in a timely manner. The design-build process was appropriate for 109 Main Street because both Bild Architecture and Great Falls Construction brought particular expertise to the design table. Bild focused on finding a design solution that brought a colonial look to a large retail building. Great Falls provided immediate feedback on how design decisions would impact construction.
Resident feedback from the town of Gorham has been overwhelmingly positive.
"Great Falls Construction has had the pleasure of working with Bild Architecture on a number of projects. Since the beginning Evan and Sasha have been wonderful to work and collaborate with. Last year Great Falls worked with Bild on the new 109 Main Street in Gorham.  The existing building was an eyesore for many years and the residents were eager for a new facility to take its place. Evan worked closely with the Great Falls team to create a building that is now a centerpiece in the heart of Gorham Village providing exciting new offerings to the town." Valerie Paquin-Gould, Marketing Specialist, Great Falls Construction